Guest blogger Laura Rothenberg Campbell, LCSW, of LIFT-Chicago shares her experience with using gratitude practice in not only her personal life, but also the workplace.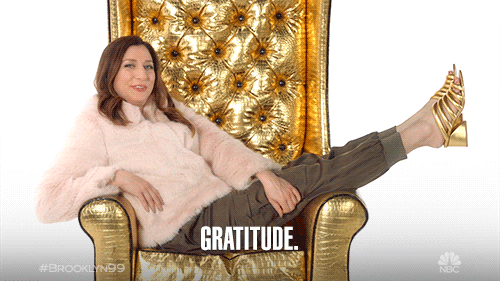 What are you grateful for? A lazy Saturday? A smooth commute to the office? A sunny summer day?
A few months ago, I was tasked with leading a discussion at the end of a team meeting. I had recently been on a gratitude practice kick in my personal life and thought that finding a reflective resource to explore this topic as a team would be valuable. Gratitude practice involves paying attention to the good things around you and can include journaling for yourself or externally expressing gratitude to others. There has been growing research on the many benefits of gratitude practice, including positive impacts on mental health and life satisfaction. For example, "in a random assignment, placebo-controlled Internet study, a gratitude intervention (writing and delivering a letter of thankfulness to someone who had been especially helpful but had never been properly thanked) was found to significantly increase happiness and decrease depression for up to 1 month after the visit."
It turns out that this practice is not limited to our personal lives - gratitude can also be useful in the workplace. If this sounds like a stretch, let me first say that I hear you when you say that Saturday is the best day of the week. But Saturdays, for me, do not pay the bills. Having said that, I often feel fortunate to have a job that I really enjoy; I love having the opportunity every day to combine my two areas of passion (building relationships and analyzing data) in service of supporting parents as they pursue their family goals. However, given the many demands of working in the nonprofit world, I have found that it can sometimes be difficult to pause and express this gratitude. Or maybe it's not work demands at all that make it difficult but instead a -40 degree wind-chill in the depths of Chicago winter or narrowly missing a train to bus connection on a morning commute. I share these examples in hopes of being more broadly relatable, but there are also a host of other circumstances (often more personal and nuanced) that can pose challenges to readily and intentionally pausing to express gratitude.
This is why I chose to share with my team the TED Talk by Shawn Achor titled "The Happy Secret to Better Work". He explains his research on positive psychology in a humorous and approachable way. Most striking to me was his finding that "75% of job successes are predicted by your optimism levels, your social support, and your ability to see stress as a challenge instead of as a threat." According to his research, a brain operating in the positive state is a more productive, more intelligent brain, and one of the ways to train our brains to become more positive is by practicing gratitude in the workplace. Are you sold yet?
So, I pitched the idea of creating a "Joy Jar" to my team. For the past six months, we have been working collaboratively to create intentional moments to pause and express gratitude by writing down, for example, a successful moment from a meeting with a parent or a funny happening with a colleague. Periodically, we take turns pulling these grateful slips of paper from the Joy Jar and reading them together. For me, it has been a wonderful way to bring this practice into the professional space and has created an approach to my job that is grounded in gratitude. This is my brain on joy: from my first sip of coffee to the last email I send before closing my computer for the day, I do my best to find at least one moment to pause and express gratitude to facilitate my brain operating in a positive state. 
I would encourage you to explore ways of incorporating gratitude practice into your work and look forward to learning more creative ideas to pitch at my next team meeting!
Laura Rothenberg Campbell is Licensed Clinical Social Worker and has 10 years of experience working with children and families through research, evaluation, volunteering and direct service. She currently works as the Program Manager, Coaching at LIFT-Chicago, a national nonprofit that works one-on-one with parents on their career, financial, and education goals to break the cycle of poverty. Laura is currently participating in YNPN Chicago's Leadership Institute. 
Do you like this post?